Between August 2002 and November 2009 I was lucky enough to work in New York with my office in the heart of Midtown Manhattan on 7th Avenue, very close to Times Square. This exciting new city had many things to discover and every day I would find a new deli or international shop to eat lunch. At times it was tempting to be lazy and just pop to one of the many nearby chain take-aways or restaurants but I always preferred to search further afield and try some different foods.
West 46th Street had some amazing food, from delicious rice, beans, and plantains at Margon (although their Friday Salted Codfish stew really didn't go down well back in the office) to authentic Indian food at Minar.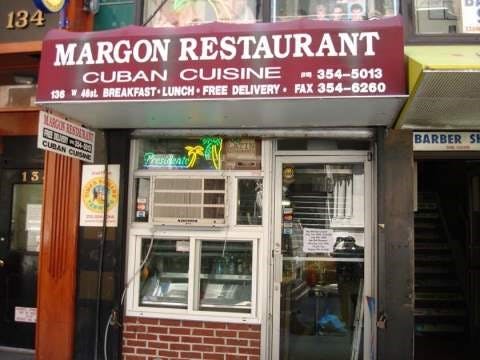 Photo: Margon 136 W 46th St.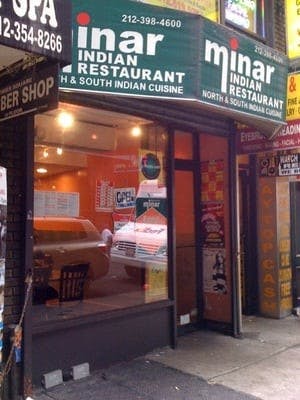 Photo: Minar 136 W 46th St.
Unfortunately eating these delicious rich meals every lunchtime started to have a number of negative effects, namely on my wallet and waistline! One day this changed though, when I was introduced to Ali "Al" Yeganeh and his Soup Kitchen International, a tiny lunchtime only soup kitchen, at 259A West 55th Street. Finally, I was able to get delicious healthy lunches that didn't expand my waistline and left just enough room for dinner later in the evening.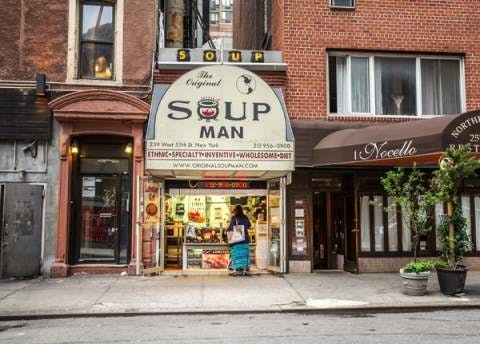 Photo: Soup Kitchen International 259A W 55th St.
.bowl inspiration, it's all thanks to Al
Al Yegeneh's 259A West 55th Street soup kitchen was very much the inspiration for .bowl. Today in 2020, the high street is full of cheap take-away food and the '£3 Meal Deal' has become the de-facto office and shop worker lunch, with its cheap low quality processed meats, cheese or egg sandwiched between bleached white bread and accompanied by fried potato crisps and a sugary soft drink.
I'd had enough of the high street and their profit over quality foods, I thought it was time to reclaim lunch and transform it into a healthy satisfying meal rather than one of low quality convenience. The goal of .bowl is to change our high street breakfast and lunch options and provide foods like Al so passionately created every day.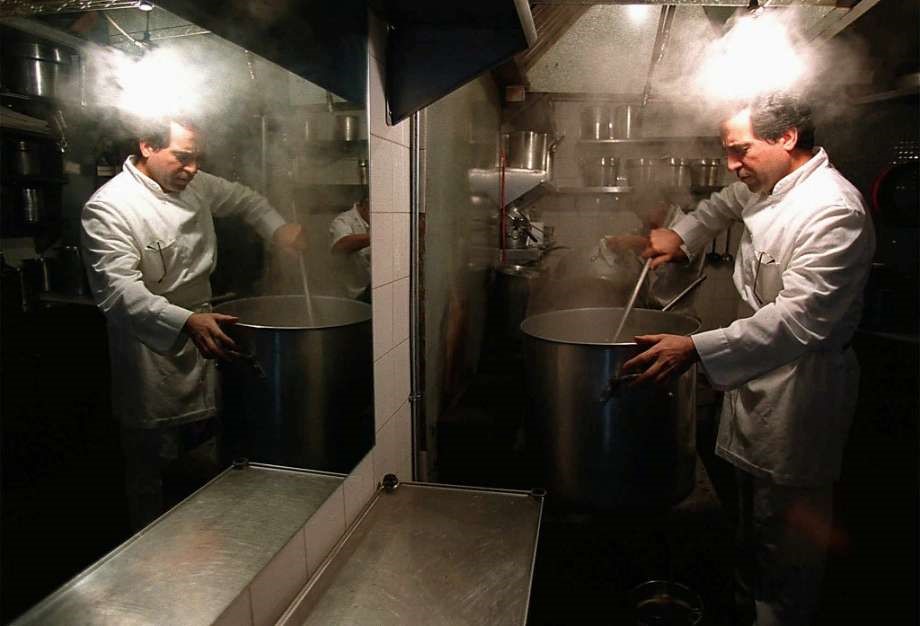 Photo: Al Yeganeh stirs a batch of soup at his Soup Kitchen International restaurant in New York, Saturday, Dec. 27, 1997. Photo: Emile Wamsteker, AP
Ali "Al" Yeganeh was born in Iran and lived in Khorramshahr prior to moving to the US. Al founded the Soup Kitchen International, a tiny lunchtime only soup kitchen, in 1984 at 259A West 55th Street, New York. Al created anywhere from eight to seventeen soups every weekday and his concoctions were so popular that a wait of half an hour at the lunchtime peak was not uncommon, although there were very strict rules for conduct in line.
As you approached Al's Soup Kitchen International from a distance, the first thing you'd notice about it was the awning, which proclaimed "HOMEMADE HOT, COLD, DIET Soups." The second thing you noticed was an aroma so delicious that it made you want to take a bite out of the air. The third thing you noticed, in front of the kitchen, was an electric LED signboard that flashed,
"Today's Soups . . . Chicken Vegetable . . . Mexican Beef Chili . . . Cream of Watercress . . . Italian Sausage . . . Clam Bisque . . . Beef Barley . . . Due to Cold Weather . . . For Most Efficient and Fastest Service the Line Must . . . Be Kept Moving . . . Please . . . Have Your Money . . . Ready . . . Pick the Soup of Your Choice . . . Move to Your Extreme . . . Left After Ordering. "
A lunch line of thirty people often stretched down the block from Al's doorway. The customers were varied, behind the construction worker was the corporate banker in his expensive suit, who was in front of the woman in an expensive winter coat and hat. Few people spoke, most had their money out and their orders ready. If when you reached the front of the line you couldn't decide which soup to get, Al would shout "Next!" and motion you to move to the left. Customers who stalled or complained would be bypassed, the unwritten rule was simple, "Just don't talk. Do what he says."
Al is quoted as saying "Whoever follows [the rules] I treat very well. My regular customers don't say anything. They are very intelligent and well educated. They know I'm just trying to move the line. The New York cop is very smart, he sees everything but says nothing. But the young girl who wants to stop and tell you how nice you look and hold everyone up - "yah!". "I tell you, I hate to work with the public. They treat me like a slave. My philosophy is: The customer is always wrong and I'm always right. I raised my prices to try to get rid of some of these people, but it didn't work!"
Al was dressed in chefs' whites but was often seen with orange smears across his chest, which may have been some of the carrot soup cooking in a huge pot on a little stove in one corner. A three-foot-long hand-held mixer from France sat on the sink, looking like an overgrown gardening tool. "I have no overhead, no trained waitresses, and I have the cashier here." His tiny kitchen window store typically consisted of five big grey soup kettles and according to the piece of cardboard taped to the door, you can buy Al's soups in three sizes, costing from four to fifteen dollars. The order of any well-behaved customer is accompanied by little wax-paper packets of bread, fresh vegetables (such as spring onions and radishes), fresh fruit (such as cherries or an orange), a chocolate mint and a plastic spoon. No coffee, tea, or other drinks are served.
Al was very proud of his soups, "I know that soup is the greatest meal in the world. It's very good for your digestive system. And I use only the best, the freshest ingredients. I am a perfectionist." "People don't realise why I get so upset. It's because if the soup is not perfect and I'm still selling it, it's a torture. It's my soup, and that's why I'm so upset. First you clean and then you cook. I don't believe that ninety-nine per cent of the restaurants in New York know how to clean a tomato. I tell my crew to wash the parsley eight times. If they wash it five or six times, I scare them. I tell them they'll go to jail if there is sand in the parsley. One time, I found a mushroom on the floor, and I fired the guy who left it there."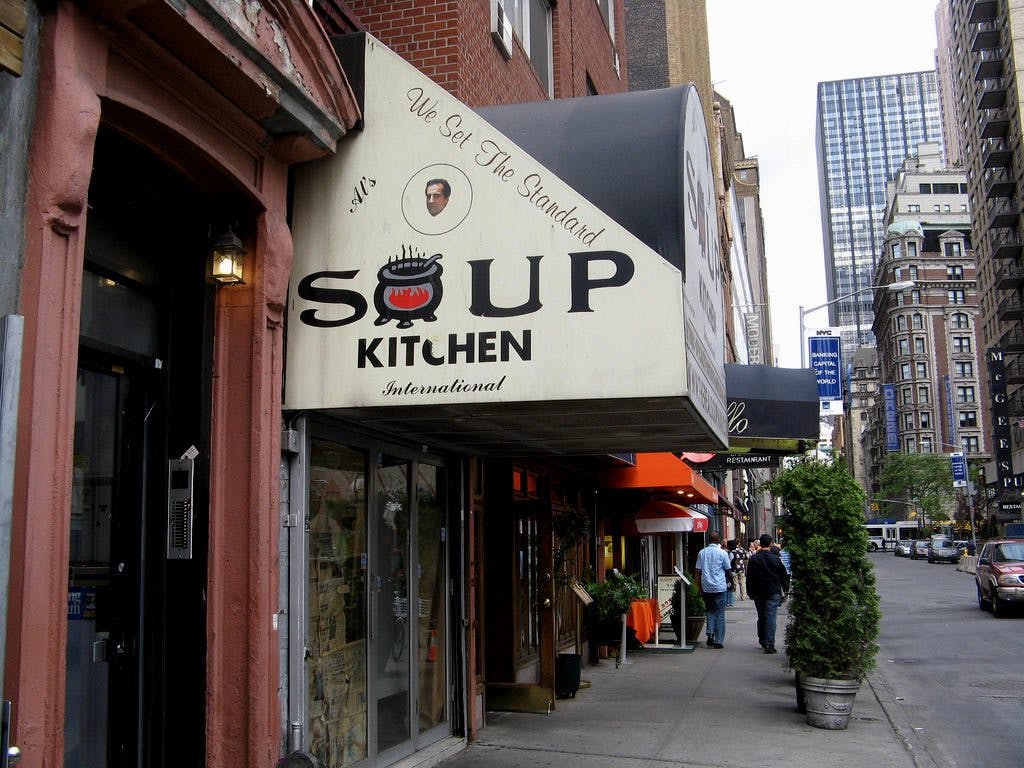 Photo: Al Yeganeh's original restaurant Soup Kitchen International, which was a well-known soup restaurant at 259-A West 55th Street (between Broadway and 8th Avenue), in Midtown Manhattan, New York City
Al's Soup Kitchen International was unique. "This place is the only one like it in . . . in . . . the whole earth! One day, I hope to learn something from the other places, but so far I haven't. For example, the other day I went to a very fancy restaurant and had borscht. I had to send it back. It was junk. I could see all the chemicals in it. I never use chemicals. Last weekend, I had lobster bisque in Brooklyn, a very well-known place. It was junk. When I make a lobster bisque, I use a whole lobster. You know, I never advertise. I don't have to. All the big-shot chefs and the kings of the hotels come here to see what I'm doing."
Unfortunately in 2004, Al's 55th Street location closed but Al kept the lease on the shop while he looked to expand into a broader market. This led to the formation of the Original Soup Man chain and eventually led to the reopening of the Soup Kitchen International location in 2010 under the name "Original Soup Man", like all of Al's other restaurants.
Seinfeld Fame
Al's quirky little soup kitchen and the "Soup Nazi" character featured in the eponymous 116th episode, first aired on November 2nd 1995, of the NBC television sitcom Seinfeld. In this episode Al Yeganeh, being the inspiration, was fictionalized as "Yev Kassem", and portrayed as a tyrannical purveyor of his soups, making all of his customers follow a strict set of rules if they wish to successfully procure a bowl of one of his coveted soups. 
Al was cruelly branded "The Soup Nazi" in the television comedy series and he does not live comfortably with his "Seinfeld'' depiction and the accidental celebrity status it has brought him. Al condemns "that idiot clown" Jerry Seinfeld for branding him with "the N-word" and "taking that word so lightly."
According to writer Spike Feresten, Jerry Seinfeld and several members of the production team went to Soup Kitchen International for lunch weeks after episode aired. Upon recognizing Seinfeld, Yeganeh did a "triple take" and then went into a profanity-filled rant about how the show had "ruined" his business and demanded an apology. This was ironic since whenever the show ran, his normally long line would extend around the corner due to increased demand for his soups. Seinfeld gave what Feresten describes as "the most insincere, sarcastic apology ever given". Obviously having seen the episode, Yeganeh then bellowed, "No soup for you!" and ejected them from the restaurant.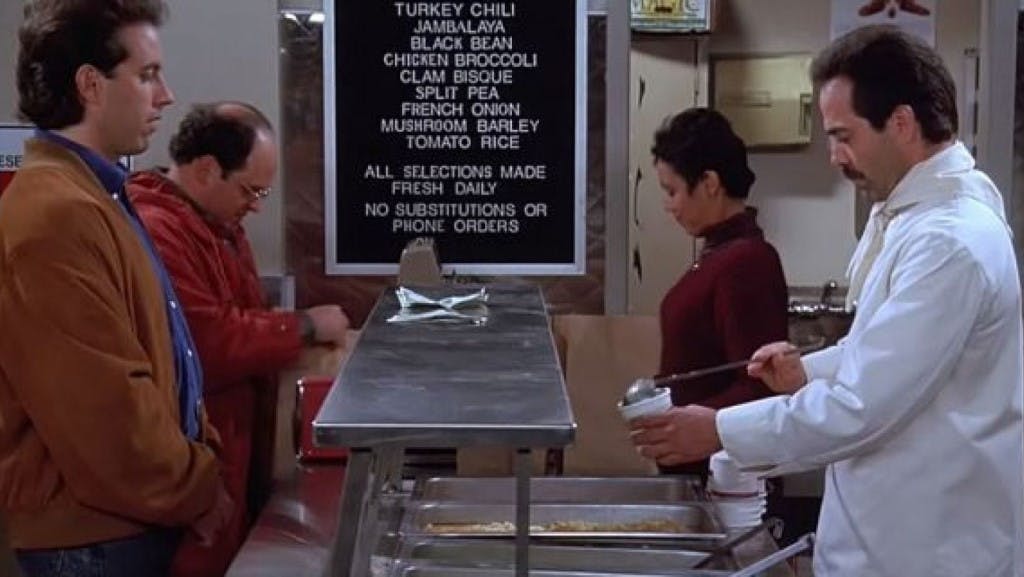 Photo: Seinfeld episode "Soup Nazi"
Although at one point there were numerous Al's Soup Kitchen's across New York, the true Seinfeld lover would only want to visit Al's little restaurant on 55th Street.
Movie Reference
The "Yev Kassem" character in Seinfeld was not the first time that Al Yeganeh was referenced in film. According to Nora Ephron's DVD commentary, the first pop culture reference to Yeganeh (though not by name) occurs in the 1993 movie Sleepless in Seattle, which Ephron co-wrote and directed. In the film, a magazine writer played by Meg Ryan discusses a potential story: "This man sells the greatest soup you have ever eaten, and he is the meanest man in America. I feel very strongly about this, Becky; it's not just about the soup."
The Original Soup Man
YouTube: Al, a very tough guest
YouTube: Seinfield Episode 116